Kon moción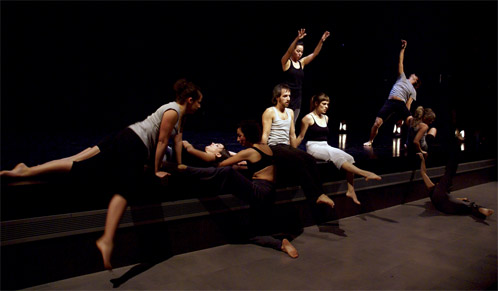 Kon moción was created in 2007, born of a need for investigation and expression in dance. Under the direction of choreographer Becky Siegel, and with the technique of Choreographic Improvisation as a vehicle for creativity, Kon moción is committed to the idea of dance as a tool for investigation, as a point of connection between the arts, and as a force for change in society. It is a unique and innovative company, where the performers have to be both dancers and choreographers so that each performance has the spontinaity and risk of improvisation as well as the structure and intelligence of choreography.
Their creations have been presented throughout Navarra and the Basque Country, in important festivals such as Otras miradas, otras escenas of the Teatro Gayarre and the Navarran government's festivals Escena and DNA. They have collaborated with important figures in the arts such as Clemente Bernad, Gorka Pastor, and Garbi Losada.
In 2013 they broadened their scope by beginning to bring dance to people with chronic illness, disbility and/or the elderly, creating the project Bailar desde quienes somos (Dancing from who we are).