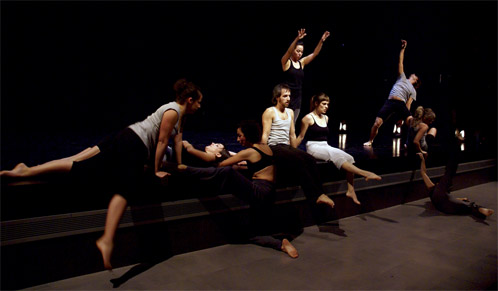 The association Kon moción was founded in 2007, born out of a need for investigation and expression in dance. Based in the Pamplona area, its members come from many different fields – theatre, dance, music, education, health workers - under the direction of the choreographer and teacher, Becky Siegel.
With the technique of improvisation as the basis for this creative project, Kon moción is committed to the idea of dance as an integrating element in society and as a point of connection between the arts.
The first years of Kon moción were of rigorous training in the discipline of choreographic improvisation and the creation of an amateur company dedicated to performance improvisation.
The group has been resident company of Huarte's Modern Art Center, and has presented its improvisations throughout Navarra. It was also invited to participate in an international dance forum in Paderborn (Germany).
Our projects include Enfoque en movimiento, (In focus, in movement) in collaboration with the photographer and documentalist Clemente Bernad, in the festival of the Teatro Gayarre: Otras miradas, otras escenas, as well as the Festival Escena of the Navarran government; various performances in exhibits in the museum in Huarte; and La ética de Spinoza según Kon moción (Spinoza's Ethics, according to Kon moción), also in the Gayarre festival.
In 2013 Kon moción broadens its scope by beginning to work with people with chronic illness and/or disability, creating the project Bailar desde quienes somos (Dancing from who we are).